About
Webinars
Announcements
Podcast
Blog
Video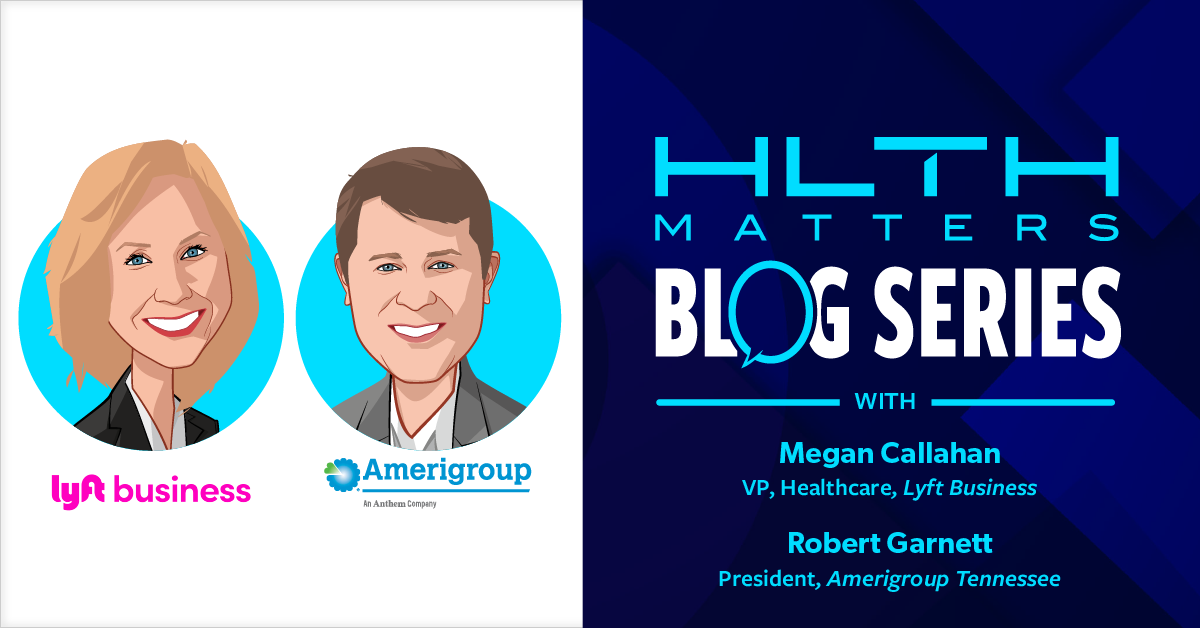 The Importance of Rideshare During COVID-19
By

HLTH with Lyft & Amerigroup

|
July 21, 2020
In response to the COVID-19 pandemic, our team will be interviewing experts from across the ecosystem to bring the HLTH community timely facts and updates.


HLTH Team: First off, can you both explain your partnership and what brings you two together today?
Megan Callahan: Thanks for having us, it's great to be with you. Let me start by giving you some background on what Lyft is doing in the healthcare space. Since 2016, we've partnered with health systems, health plans and their transportation managers to ensure patients have access to reliable rides to their medical care. Every year, almost four million people miss a medical appointment due to a lack of transportation and these individuals are disproportionately poorer, older, people of color and people with chronic illnesses or disabilities. 
Medicaid plans have traditionally relied on non-emergency medical transportation (NEMT) to address this problem. But traditional NEMT services have significant challenges, often requiring rides to be scheduled days in advance with wait times ranging anywhere from 60 minutes to three hours. Many forward-thinking health plans, like Amerigroup, are looking to rideshare as a more accessible and reliable alternative. We've been working with Amerigroup Tennessee since August 2019 to improve access to care. I'll let Robert talk about why they decided to work with Lyft.
 Robert Garnett: Thanks Megan. For us, this really started from a member quality and access standpoint. Prior to working with Lyft, missed or cancelled trips were the largest driver of member grievances and complaints. While we enjoy a great relationship with our NEMT provider, Tennessee Carriers, there are certain types of rides where additional capacity through on-demand transportation can make a huge difference in closing access gaps and improving overall NEMT quality. In working with TennCare, our state Medicaid agency, Tennessee Carriers and Lyft, Lyft has really helped close the transportation access gap. We've seen that reflected in our data with a 90% decrease in transportation-related member grievances, a 50% increase in quality gap closures and a 44% increase in primary care physician (PCP) visits. That last metric is huge — Lyft has actually made it easier for our members to access primary care. Before, when someone wasn't feeling well and had to schedule a ride three days in advance, that delay in seeking care meant they may end up in an emergency room or urgent care as a result. We've made it easier and faster for members to meet with their doctors and ultimately stay healthy.
We started with a 12-month pilot in Shelby County, the most populated Medicaid county in the state of Tennessee. Given early successes, we've moved to quickly scale the Lyft pilot statewide. We've really started to see some impressive developments and we are excited to launch this service statewide and see what we can do beyond Shelby County. 
HLTH Team: Switching to the current pandemic, why is NEMT even more crucial now? What makes it particularly challenging under these circumstances? 
Megan Callahan: The entire healthcare system has been under stress since March, but people still need access to essential health services. Whether it's dialysis, chemotherapy, or prenatal appointments, we've postponed or delayed essential medical care for many individuals. This is particularly important for Medicaid members who often can't afford other forms of transportation on their own. The populations that we generally serve are vulnerable groups — chronically ill, immunocompromised or older adults that live independently. Traditional forms of transportation like public transit or multi-load shuttle vans can be dangerous given the lack of social distancing. Riding with Lyft can help limit exposure, at least until we get a vaccine or have more widespread testing and contact tracing. I think all of those reasons make NEMT particularly important right now, and Lyft as a part of the solution to ensure people can get to essential medical care. 
 Robert Garnett: Megan hit that very clearly. While we've seen a huge shift towards telemedicine and have expanded reimbursement policy at the state level to cover that, there are certain services that require in-person visits. If you think about dialysis services, for example, it's not really something that you can do remotely beyond the initial consultation. We recognize that for many individuals, it's simply not possible to stay home and miss their medical appointments. It's been extremely helpful for us during COVID-19 to have those Lyft rides as a safer form of transportation for members. 
HLTH Team: Do you see patients delaying routine care visits due to fear of contracting the virus during transit? How are you easing those fears?
Megan Callahan: Our hypothesis is that many folks are delaying care, particularly if they're in a vulnerable population or fear going into a healthcare facility. There was a fascinating survey recently from Kaiser Family Foundation, which showed that 53% of those with poor health or a chronic condition have put off medical care in the last three months. Rob, would you agree with that?
Robert Garnett: We've seen a ton of data on this. Folks are still going in for services they deem critical, but if there's an option to forgo an elective procedure, many states and federal entities have advised to do so or shift to a digital setting. Many individuals still don't feel comfortable accessing care.
At Amerigroup, we've conducted a member outreach and check-in program, where we have case managers reach out to our most vulnerable members. We've used predictive analytics to identify about 17,000 members and our associates make calls to check-in on them and ensure they have access to necessary community resources. There was a lot of fear expressed by these members about using mass transit or a traditional van ride. So, we certainly know there's a preference to have a safer transportation option for going to and from the doctor's office when that's necessary. 
HLTH Team: I imagine you easing those fears by directing a lot of patients to Lyft. On the Lyft side, how have you been ensuring the cleanliness and safety for both your riders and your drivers during this time?
Megan Callahan: That's been a huge conversation and big undertaking for Lyft, not just on the healthcare side but for our general rider population. We view ensuring the health and safety of our communities, both our drivers and our riders, as a top priority. We've been anchored to the CDC guidelines and launched a health and safety program on June 1st that requires riders and drivers to do five things. First, both must wear face masks in the vehicle. Second, they have to certify that they do not have COVID-19 or any related symptoms. Third, sit only in the back seat. Fourth, keep the windows rolled down. Last, have drivers sanitize the vehicle.
Last week, we also announced we'll be making partitions available to all drivers in the coming months. By the end of July, we will have made tens of thousands of partitions available to U.S. drivers for free, aiming to cover more than 50% of rides in select markets. And later this summer, partitions will be available for all drivers to purchase through our new online storefront designed to give drivers easy and affordable access to PPE, cleaning supplies and face masks.
We think that those steps are necessary to ensure cleanliness and safety, and of course with appropriate social distancing by having people sit in the back seat, we believe that helps us get patients safely to their appointments. I'd like to commend our healthcare partners — their role in rolling out our health safety program is not insignificant. We have to instruct every patient and member that they must wear a face covering before they get into the vehicle. There has been a lot of collaboration across all of our partners to make that happen. 
HLTH Team: Have state regulatory barriers eased or changed during the pandemic to further provide NEMT options to patients? 
Megan Callahan: I can speak to the Medicaid side. At the start of this pandemic, states began to recognize that incorporating Lyft into their NEMT programs was very important for members. Since March, we've worked with four new Medicaid agencies and our partners in Florida, Illinois, South Carolina and Indiana to add rideshare into NEMT. For context, in early 2019 rideshare was not formally a part of any Medicaid NEMT program. Altogether, we're now in 14 states plus the District of Columbia and are supporting up to 29 million people every year get to and from their medical appointments. That's a huge shift in a relatively short period of time. I'm really proud of the Lyft team that has shouldered our market entry and made Lyft a viable option for millions of Medicaid members across the country. 
Robert Garnett: When COVID-19 really picked up, I can't tell you how thankful and happy we were to work closely with TennCare, our state Medicaid agency, which was essential in turning rideshare into a reality within Tennessee. We really have a great state partner that was willing to work with us, with Lyft and with our transportation vendor to facilitate a pilot. It made us far more prepared when COVID-19 really started to take hold because of the issues that arose. We were having 2-3 hour daily touchpoints with TennCare and it was reassuring to know we had this additional capability to leverage Lyft to supplement our existing NEMT services, particularly in light of social distancing protocols. That is directly attributed to the fact that we had the additional capabilities from Lyft and a highly engaged and innovative state partner in TennCare.
HLTH Team: Do you expect these regulatory changes to remain even after the pandemic? Also, has this crisis highlighted flaws in the current regulatory structure?
Megan Callahan: I do think that they will stick. I think the value proposition that Robert just pointed out is very strong. The new states that we've worked with have created permanent ability to use rideshare, or are actively working on creating permanent pathways. In general, a lot of these Medicaid regulations are a sign of the times in which they were written, often quite some time ago. We spend a lot of our time talking to agencies about how to modernize their NEMT programs. At the times that these regulations were written, they did not contemplate rideshare models where you didn't own the car and a driver wasn't an employee. Everything is predicated on older business models. 
Just to give you a concrete example, some states require drivers to write down the odometer number at the beginning and end of the ride. Obviously, with technology today and certainly with the real-time of tracking and transparency that Lyft brings to the table, we don't have to do that anymore. We can tell you exactly how much time a driver took and if it was the optimal route. That's a huge value-add for Medicaid with respect to decreasing fraud, waste and abuse. We're in the midst of an extraordinary opportunity to modernize transportation in a way that not only improves the member experience, but also can decrease overall costs for Medicaid programs, which I think is really important. 
HLTH Team: Are you seeing a major shift to in-home care? How are you supporting this shift through any new programs or partnerships? 
Robert Garnett: When you refer to at-home care, which includes telemedicine, absolutely. I've been a big proponent of telemedicine for a long time and it's had a big "coming soon" sign for the last ten years. There has been a lot of excitement and energy about it for quite some time. I think it's safe to say that it has taken off more in these past two months then it has in the past few years. It's absolutely here to stay, but I think how much will depend on state regulatory environments, similar to your last question on NEMT. How states adapt to the consumer is important — it's a first for many members. But now that you have consumer demand for it given the current pandemic, it's really pushing telemedicine to the forefront.
Megan Callahan: From a Lyft prospective, we're very supportive of digital-first models and I would echo everything that Robert said about telemedicine. What's interesting for us is how much COVID-19 accelerated not only telemedicine but delivery services for vulnerable populations in their homes. The amount of interest we've received from payers and providers about how Lyft could support their members and patients was overwhelming. 
Amerigroup was one of those partners and we quickly accelerated our delivery work, which was on our product road map for this year but we moved it up to meet the moment. Now, for example, we're working with Second Harvest Food Bank in Tennessee and Amerigroup to deliver food to those who face food insecurity. We're very proud of that program. Consider all of the other ways that Lyft can bring an on-demand network to deliver food, prescriptions and other essential items. We're supporting the at-home experience and believe it's here to stay. 
HLTH Team: Wonderful! For both of you, any last thoughts — reflecting on the past few months or just overall hope you have for the future?
Megan Callahan: You know, I think that COVID-19 has been the great revealer in exposing the many challenges in the American healthcare system, and it has also been the great accelerator. Between emergency easing of regulations, ingenuity in the marketplace and flat-out need to help people, I think you saw the healthcare industry lay the groundwork for executing ideas that have been around for some time. I think we're going to have an interesting time coming into 2021. We'll all be challenged to keep up with the pace of change and figure out how we can get to the future faster. 
Robert Garnett: I think the term Megan used, acceleration, I absolutely agree with. We're in conversations at the state level around the social determinants of health (SDOH), where we are looking at member assessments and other key metrics. To even think about having a conversation about paper-based assessment, for example, seems almost foreign since everything now has really shifted to digital-first. 
I would also highlight the program Megan mentioned around food as another example. We heard from our members about food insecurity and quickly implemented a program with Lyft to ensure their needs were being met. It was odd to think that if they were using Lyft in their personal life, they would accept using a mode of  transportation in their "healthcare life" that isn't as convenient or flexible. There was a contrast to how consumers were receiving services in their personal lives versus healthcare. We've had to bridge that gap over the course of the current pandemic, and we're very proud of what we've accomplished for Tennessee's Medicaid members.
About Megan Callahan:
Megan Callahan is VP of Healthcare at Lyft Business, which works with thousand of organizations to move people they care about — from employees and customers, to patients, travelers, and more. Together, we design transportation experiences and programs that make the ride matter. Megan oversees the strategy and operations of Lyft Business' thriving healthcare business.
Before joining Lyft in 2017, Megan served as Chief Strategy Officer and member of the Executive Leadership team at Change Healthcare. She was a primary architect of the merger that created Change Healthcare, during her tenure as senior vice president of corporate strategy and business development for McKesson Technology Solutions. Megan has an Masters of Public Health from UCLA and volunteers at the San Francisco Homeless Prenatal Program.
About Robert Garnett:
Robert Garnett serves as President, Amerigroup Tennessee, which is part of the Medicaid Central Region and Government Business Division at Anthem, Inc. As President, he is responsible for the strategic, fiscal, regulatory, and operational leadership of the health plan. In his role, he is also responsible for building and managing state and local relationships and fostering new growth and strategic opportunities within Tennessee's TennCare Medicaid program. Amerigroup Tennessee provides Medicaid managed care services for approximately 400,000 members as a part of the TennCare program for the state of Tennessee, which includes TANF, LTSS, ABD/SSI and ECF (IDD) services. Prior to his promotion to President in 2018, Mr. Garnett served as the Chief Operating Officer and previously the Director of Medicaid State Operations, leading all day to day health plan operations and execution, customer service, quality management, and regulatory oversight from 2014 to 2018. Prior to joining Amerigroup Tennessee, he served in a similar operational leadership capacity for Amerigroup Georgia from 2011 to 2014. In addition to these roles, Mr. Garnett supported South Region Medicaid with business development & implementation, and strategic operational strategy. Prior to his roles supporting Medicaid in the Central and South Regions, Mr. Garnett participated in Amerigroup Corporation's Executive Leadership Development Program (LDP) and served in multiple Business Analysis roles supporting IT and Enrollment services.